JAPANESE SPEED MAKES STATEMENT IN BERMUDA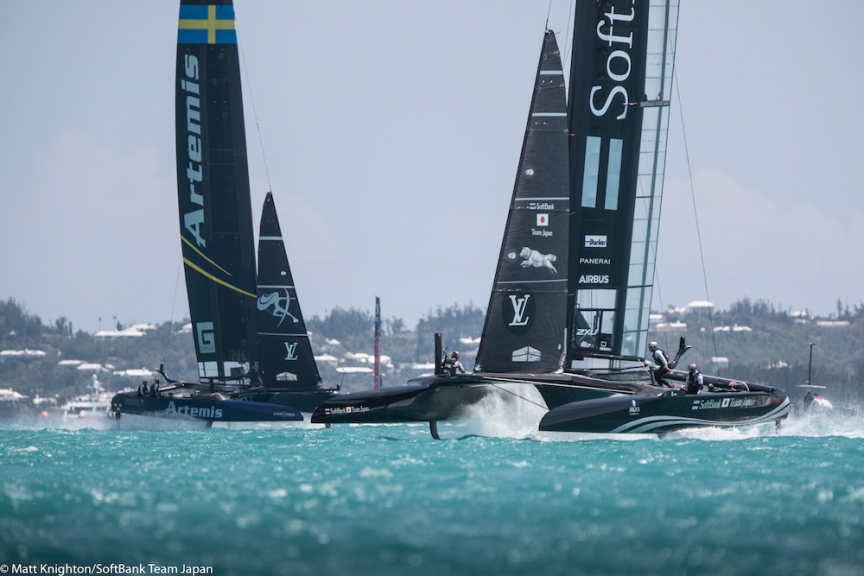 SOFTBANK TEAM JAPAN AND ARTEMIS RACING EVEN AT 1-1 AFTER FIRST DAY OF AMERICA'S CUP PLAYOFF RACING
SoftBank Team Japan stands on even points with opponent Artemis Racing after both team's scored wins in breakout racing to begin the Louis Vuitton America's Cup Challenger Playoffs today in Bermuda
But while the scoreboard may read 1-1, the bigger story of the day was the statement the Japanese team made with their undeniable speed advantage over their Swedish rivals.
"We obviously would've love to come away with two wins today to start the series but the statement we made in the first race will have an impact on the rest of this series", said Skipper and CEO Dean Barker.
"We watched Artemis Racing very closely through the final few practice races last month and saw how they were moding their boat for the heavy air days. We took that information and made some changes to our setup and are really happy with how the boat sailed today."
The first race of the day began with a sprint towards the first mark narrowly won by Artemis Racing after setting up to windward of the Japanese, however, smart tactics around the bottom mark minimized maneuvers for SoftBank Team Japan who let their boat speed do the talking the rest of the race.
Several positive wind shifts extneded the black boat's lead and the Japanese team won the race handily.
Fast forward to the second race of the day and SoftBank Team Japan commanded the start leading by more than a boatlength to the first mark.
Hikari's speed continued to grow the delta between the team's until a costly mishandled gybe on the downwind leg allowed the Swedes to even the gap.
Splitting marks, the two teams battled through the upwind leg where despite gains by SoftBank Team Japan, Artemis Racing luckily ran into a massive wind shift on the lefthand side of the course that allowed them to sail higher than the Japanese and overtake them at the top mark.
The Swedes went on to win the race.
"We're really confident with the tool we've got", said Grinder Ben Lamb. "Our sailors have no excuses, the boat's a weapon."
Racing will continue tomorrow, Tuesday in Bermuda where both team's will matchup again at 2pm Bermuda time in two more races in the first-to-five series.